Description
ABOUT THE GAME
America, 1899.
Arthur Morgan and the Van der Linde gang are outlaws on the run. With federal agents and the best bounty hunters in the nation massing on their heels, the gang must rob, steal and fight their way across the rugged heartland of America in order to survive. As deepening internal divisions threaten to tear the gang apart, Arthur must make a choice between his own ideals and loyalty to the gang who raised him.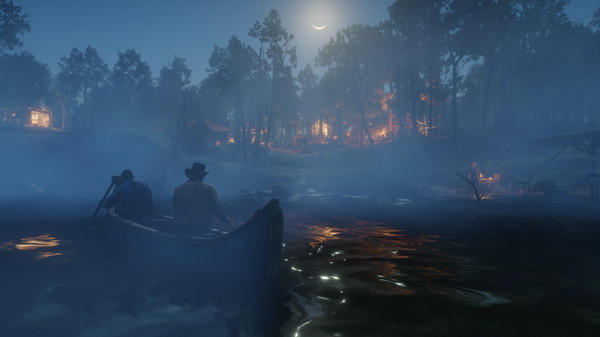 Now featuring additional Story Mode content and a fully-featured Photo Mode, Red Dead Redemption 2 also includes free access to the shared living world of Red Dead Online, where players take on an array of roles to carve their own unique path on the frontier as they track wanted criminals as a Bounty Hunter, create a business as a Trader, unearth exotic treasures as a Collector or run an underground distillery as a Moonshiner and much more.
With all new graphical and technical enhancements for deeper immersion, Red Dead Redemption 2 for PC takes full advantage of the power of the PC to bring every corner of this massive, rich and detailed world to life including increased draw distances; higher quality global illumination and ambient occlusion for improved day and night lighting; improved reflections and deeper, higher resolution shadows at all distances; tessellated tree textures and improved grass and fur textures for added realism in every plant and animal.
Red Dead Redemption 2 for PC also offers HDR support, the ability to run high-end display setups with 4K resolution and beyond, multi-monitor configurations, widescreen configurations, faster frame rates and more.
ULTIMATE EDITION
The Red Dead Redemption 2: Ultimate Edition delivers all of the Story Mode content from the Special Edition plus additional bonuses for online including:
Bonus Outfits: Get two exclusive outfits for your online character. The Blackrose Bounty Hunter Outfit features a long oxblood-colored coat, a vest with gold pocket watch chain, and dark pants tucked into chocolate leather boots. The Copperhead Enforcer Outfit features a fur-lined saddle-brown leather waistcoat, two-tone gloves, and pinstripe black pants tucked into black leather boots.
Black Chestnut Thoroughbred: Outrun the competition with this thoroughbred racehorse in a striking black chestnut coat and also receive the exclusive High Plains Cutting Saddle beautifully crafted in jet-black leather with gold metal accents. This horse and saddle are available in online.
Free Access to the Survivor Camp Theme: Customize your own personal Camp in online with free access to the Survivor theme.
Free Access to Additional Weapons: Get access to the Volcanic Pistol, Pump Action Shotgun and Lancaster Varmint Rifle, free of charge from Gunsmiths in online.
Rank Bonuses: As a great start for all Ultimate Edition players, you can rank up faster in online, up to rank 25.